Episodes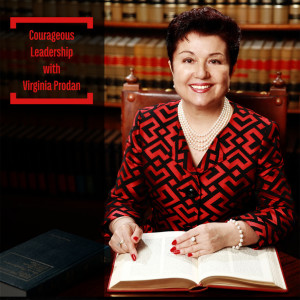 Tuesday Nov 14, 2023
Tuesday Nov 14, 2023
Please welcome Scott Edelman back to our Courageous Leadership with Virginia Prodan Podcast.
Scott Edelman - we talk this time with us about antisemitism in US. Colleges. Mr. Edelman retired from the United States Foreign Service (diplomatic corps) within the U.S. Department of State in 2015 following 35 years of service largely focused on the Middle East and intelligence analysis.
Mr. Edelman entered government service in 1980 as an intelligence analyst at the Central Intelligence Agency. In that capacity, he followed and analyzed political developments in East Africa (1980-83) and Eastern Europe (1986-89), receiving an Exceptional Performance Award upon his departure.
He also worked on loan to the State Department as a political officer at the United States Embassy in Bucharest, Romania (1984-86). After joining the Foreign Service in 1989, he served overseas as a consular and political officer in Poland (1990-92), commercial attaché in the Bahamas (1992-94), political officer in the United Arab Emirates (1997-2000), deputy consul at the U.S. consulate in Adana, Turkey (2001-02), U.S. consul in Izmir, Turkey (2002-04) and as the State Department advisor (POLAD) to the U.S. Navy's Fifth Fleet at its headquarters in Bahrain (2010-13). He also served as the political officer at the U.S. liaison mission in Mogadishu, Somalia during Operation Restore Hope (1993) and as a civilian observer with the international peacekeeping force in the Sinai, Egypt (1994-95).
During the course of these assignments, he received two Superior Honor awards and a Meritorious Honor award. From 2004 to 2006, he was the analyst for Turkish affairs in the Department's Intelligence and Research Bureau (INR), receiving INR's Best New Analyst award in 2005.
From 2009-10, he returned to INR as its sole (later senior) analyst for Iraq, receiving special recognition for his contributions to the 2010 National Intelligence Estimate (NIE) on Iraq. From 2006-08, he was an Assistant Professor of Political Science at the U.S. Air Force Academy in Colorado Springs, CO (serving as the State Department's "diplomat in residence.")
Born in New York in 1955, Mr. Edelman received his BA in Politics (with a focus on Near Eastern studies) at Brandeis University, a law degree from the University of Connecticut, and pursued graduate studies in Government (National Security Studies) at Georgetown University. He speaks, at varying degrees of fluency, Hebrew, Arabic, French, Romanian, Polish and Turkish. His hobbies and interests include travel, history and photography. He is married and has one son.
Follow Courageous Leadership with Virginia Prodan Podcast at: Edifi: https://edifi.app/podcasts/courageous-leadership-with-virginia-prodan-26927/
Or Spotify: https://open.spotify.com/show/7kHPeoAgbkAHCg2C6RApEZ
- to hear encouraging & inspiring messages each Wednesday & Saturday at 10:00 a.m. CST‬.
We love to hear your comments, questions or share what you have learned from this podcast.
To apply for our training and coaching sessions - go to: https://www.virginiaprodanbooks.com/freedom-coaching
Order your autographed copy(s) of #SavingMyAssassin by Virginia Prodan - directly here: https://virginiaprodanbooks.com/product/book/
Invite Virginia Prodan to speak at your events -: https://virginiaprodanbooks.com/invite-virginia/
Follow Virginia Prodan on:
Twitter : https://twitter.com/VirginiaProdan
Face Book: https://www.facebook.com/virginia.prodan.1
LinkedIn:https://www.linkedin.com/in/virginia-prodan-0244581b/
Instagram: https://www.instagram.com/virginiaprodan/
Youtube: https://www.youtube.com/user/VirginiaProd
Courageous Leadership with Virginia Prodan Podcast at
Edifi: https://edifi.app/podcasts/courageous-leadership-with-virginia-prodan-26927/
Or - On Spotify - https://open.spotify.com/show/7kHPeoAgbkAHCg2C6RApEZ
Donate to Virginia Prodan Ministries - here: https://www.virginiaprodan.com/donate/