Episodes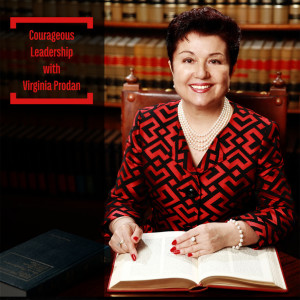 Friday May 26, 2023
Friday May 26, 2023
James Moseley - Author - PhD - Executive Director - of many companies - guest at Courageous Leadership with Virginia Prodan Podcast.
James holds a Bachelor of Arts degree from Hampshire College in Amherst, Massachusetts, a Master's degree in Theology from Liberty University in Lynchburg, Virginia, He is earning a PhD in Bible Exposition, also from Liberty University where he earned the name "The Bible History Man." He is the author of twenty- five books on biblical theology, religion, culinary, humor, political satire, folk tales, juvenile fiction, and American history, as well as three screenplays. He has written for New York's Newsday, The Los Angeles Times, The Miami Herald, The Evening News of India, Far East Traveler Magazine, The New York Daily News, The Pasadena Star-News, Namaskar (Air India Inflight), The Peak Magazine (Hong Kong), and many others. James has held many executive positions with World Vision, FedEx, Ferriari International, Neopost, Brinks Inc. and many more.
        At Courageous Leadership with Virginia Prodan Podcast - We love to help you with any questions, concerns you might have or trainings. For more training - individual, group or company training - go to: https://www.virginiaprodanbooks.com/freedom-coaching
Follow Courageous Leadership with Virginia Prodan Podcast at: https://open.spotify.com/show/7kHPeoAgbkAHCg2C6RApEZ
- at: https://lnkd.in/egT6U5g - or at - https://lnkd.in/g_5nqzJj
- hear encouraging & inspiring messages each Wednesday &  Saturday at 10:00 a.m. CST‬.
Order your signed copy(s) of memoir #SavingMyAssassin by Virginia Prodan - directly here: https://virginiaprodanbooks.com/product/book/
Invite Virginia Prodan speak at your events - go to: https://lnkd.in/eQwj4R2u
        Follow - Virginia Prodan on :
Twitter : https://lnkd.in/gyDX5isA
Facebook: https://lnkd.in/g7ytqY9y
LinkedIn: https://lnkd.in/gsFnMcsX
Instagram: https://lnkd.in/gWYpEifa
Youtube: https://lnkd.in/eJXWPHU
Courageous Leadership with Virginia Prodan Podcast at: https://lnkd.in/g_5nqzJj
Please - #Donate to Virginia Prodan Ministries - here: https://lnkd.in/e2DFdYz