Episodes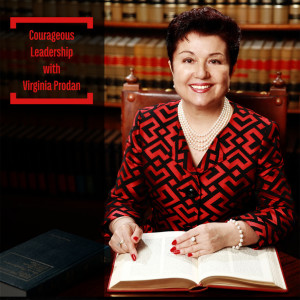 Tuesday May 16, 2023
Tuesday May 16, 2023
Steve Green President of Hobby Lobby - returns to Courageous Leadership with Virginia Prodan Podcast.
Steve Green became President of Hobby Lobby in 2004 and has helped his family grow the business to more than 900 stores in 47 states with over 43,000 employees.    He is a national speaker on both business and philanthropy interests, always focusing on how his faith intersects with his life endeavors. 
Gordon-Conwell Theological Seminary recognized his impact in these overlapping life arenas with an Honorary Doctorate of Divinity Degree in 2013.  In 2015, Mid-America Christian University presented him with an Honorary Doctorate of Biblical Literature.
Green is also chairman of the board for Museum of the Bible. In his role as chairman, Green has assembled a team of academics, designers, technology professionals and other experts to create the 430,000-square-foot Museum of the Bible, dedicated to a scholarly and engaging presentation of the Bible's impact, history, and narrative.       The Museum opened November 2017 in Washington D.C., three blocks from the U.S. Capitol. Green has authored four books. His books can be found in Hobby Lobby stores across the nation, and online. Green and his wife, Jackie, have been married for more than 30 years and reside in Oklahoma City, where Hobby Lobby is headquartered. Their family includes a son, five daughters, a daughter-in-law, three sons-in-law and six grandchildren. They are actively involved in their local church, as well as with many national and international Christian ministries and charities.           
Steve's message will encourage and motivate you. 
At Courageous Leadership with Virginia Prodan Podcast - We love to help you with any questions, concerns you might have or trainings. For more training - individual, group or company training - go to: https://www.virginiaprodanbooks.com/freedom-coaching
Follow Courageous Leadership with Virginia Prodan Podcast at:
Edify - https://player.edifi.app
- hear encouraging & inspiring messages each Wednesday & Saturday at 10:00 a.m. CST‬.
Apply for more training - individual or group training here : https://www.virginiaprodanbooks.com/freedom-coaching
Order your signed copy(s) of my memoir #SavingMyAssassin - here: https://virginiaprodanbooks.com/product/book/
  Invite Virginia Prodan speak at your events : https://lnkd.in/eQwj4R2u
          Follow - Virginia Prodan - on :
Twitter : https://lnkd.in/gyDX5isA
Facebook: https://lnkd.in/g7ytqY9y
LinkedIn: https://lnkd.in/gsFnMcsX
Instagram: https://lnkd.in/gWYpEifa
Youtube: https://lnkd.in/eJXWPHU
Courageous Leadership with Virginia Prodan #Podcast at: https://player.edifi.app