Episodes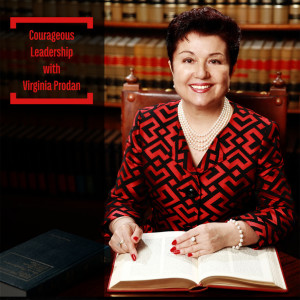 Tuesday Aug 01, 2023
Tuesday Aug 01, 2023
Welcome to Courageous Leadership with Virginia Prodan Podcast. The podcast that inspires you to live a life of significance and success and to inspire others too.
We invite you to join our conversation with Lauren McAfee - that was designed to help you be inspire, grow, and get to the potential you want to be. Lauren McAfee -is the founder of Stand for Life, and Ministry Director for Ministry Investments at Hobby Lobby . She is the author of Only One Life , Not What You Think; Legacy Study; Beyond our Control; and Created in the Image of God. She is currently pursuing a PhD in Ethics and Public Policy with Dr. Russell Moore as her supervisor studying the Imago Dei applied to Women's Health.
Prior to her role with Hobby Lobby, Lauren worked for her father Steve Green as he founded Museum of the Bible in Washington, DC. During her time at the Museum, she served as Curator, Artifact Collection Manager, and Director of Community Engagement. Lauren has a Masters of Arts in pastoral counseling and theological studies, as well as a Masters of theology. She and her husband Michael live in Oklahoma City and enjoy reading and traveling. Together they have two daughters, Zion and Zara, through the blessing of adoption. Her message will inspire you. 
      At Courageous Leadership with Virginia Prodan Podcast - We love to help you with any questions, concerns you might have or trainings.
To apply for our training and coaching sessions - go to: https://www.virginiaprodanbooks.com/freedom-coaching
Follow Courageous Leadership with Virginia Prodan Podcast at: at Edifi: https://edifi.app/podcasts/courageous-leadership-with-virginia-prodan-26927/
Or Spotify: https://open.spotify.com/show/7kHPeoAgbkAHCg2C6RApEZ
-  to hear encouraging & inspiring messages each Wednesday & Saturday at 10:00 a.m. CST‬.
We love to hear your comments, questions or share what you have learned from this podcast.
Order your autographed copy(s) of #SavingMyAssassin by Virginia Prodan  - directly here: https://virginiaprodanbooks.com/product/book/
Book Virginia Prodan to speak at your events -: https://virginiaprodanbooks.com/invite-virginia/
Follow Virginia Prodan on:
Twitter : https://twitter.com/VirginiaProdan 
Face Book: https://www.facebook.com/virginia.prodan.1
LinkedIn :https://www.linkedin.com/in/virginia-prodan-0244581b/
Instagram: https://www.instagram.com/virginiaprodan/
Youtube: https://www.youtube.com/user/VirginiaProd
Courageous Leadership with Virginia Prodan Podcast at Edifi: https://edifi.app/podcasts/courageous-leadership-with-virginia-prodan-26927/
Or - On Spotify - https://open.spotify.com/show/7kHPeoAgbkAHCg2C6RApEZ
Donate to Virginia Prodan Ministries - here: https://www.virginiaprodan.com/donate/