Episodes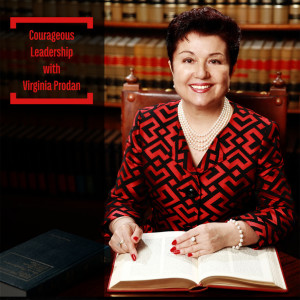 Friday Jul 21, 2023
Friday Jul 21, 2023
Join us for an inspiring and encouraging message ; designed to help you get to the potential you want to be and grow to the best of your abilities.  We are excited to grow with you.
Welcome to Courageous Leadership with Virginia Prodan Podcast  - the podcast that inspires and equips you to live a life of significance and success and to inspire others too.
      The 2011 study by Barnabas shows that
1 out of 9 Christian's - representing 11 % - lose faith;
4 out of 10 - 40%- leave the church but still call themselves Christian's;
3 out of 10 - 30% stay involved in church. We have a tremendous responsibility too.
Virginia Prodan - the Host of Courageous Leadership with Virginia Prodan  Podcast -  shares - Passing on Your Faith to the next Generation in an ungodly culture - Part 2 .----And - She will outline for you steps to follow.
But - If you need more training  - Go to https://www.virginiaprodanbooks.com/freedom - send us your questions and concerns. He are here to help you. 
- And be encouraged how God has been training Virginia to pass on her faith under any circumstances. 
It must be done intentionally; we must be proactive —teaching, training and leading others by our godly example.