Episodes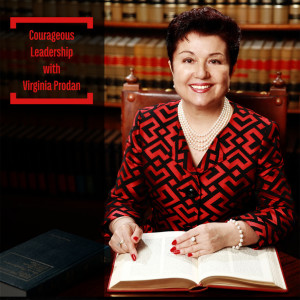 Friday Jul 14, 2023
Friday Jul 14, 2023
Welcome to Courageous Leadership with Virginia Prodan Podcast  - the podcast that inspires you to live a life of significance and success and to inspire others too.
This week we have an encouraging message and lesson ; designed to help you get to the potential you want to be and grow to the best of your abilities.  We are excited to grow with you.
We're experiencing an uncertain time. Many people feel powerless or angry or confused or defeated.   The uncertainty surrounding us makes us feel that everything is spinning out of control.
And - Everyone is looking for a ray of hope.
I will share with you how You can be a ray of hope. How to Walk in this temporary darkness with the infinite hope in you.
Daily - I'm contacted by people experiencing loneliness, fear, anger, depression; or seeing their lives spinning out of control - financially; emotionally, or spiritually.
If you feel the same - You're not alone.