Episodes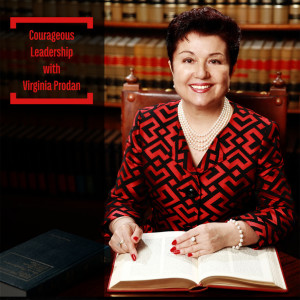 Friday Aug 04, 2023
Friday Aug 04, 2023
Welcome to Courageous Leadership with Virginia Prodan Podcast. The podcast that inspires you to live a life of significance and success and to inspire others too.
Virginia Prodan is the guest on Dr. Ben Carson - Common Sense Show.
Dr. Ben Carson said: "We have been fortunate enough to live in a Constitutional republic that preserves our freedoms, that respects each individual as a free American.
Not everyone has been that fortunate.  Virginia Prodan is an international human rights and immigration attorney, speaker, and author.
Today we will hear her story about persecution and standing up for justice and her exile from her home country of Romania.
She was granted political asylum in the United States. Hear Virginia's story about the importance of preserving liberty and her compelling story of faith and courage in the face of death is a testament to how God delivers."
He continues: 
Learn More About Virginia And Get Her Book "Saving My Assassin" at: https://virginiaprodanbooks.com/product/book
Invite Virginia Prodan to speak at your events - go to: https://virginiaprodanbooks.com/invite-virginia
Follow Courageous Leadership with  Virginia Prodan- Podcast  here: https://lnkd.in/g_5nqzJj
----- each Wednesday & Saturday at 10:00 a.m. CST.
The podcast is on Spotify; PodBean; Apple Podcast , YouTube and now on Edify Podcast Network.
Follow Virginia Prodan on :
Facebook: https://www.facebook.com/virginia.prodan.1
LinkedIn: https://www.linkedin.com/in/virginia-
Twitter: https://twiter.com/VirginiaProdan
Instagram: https://www.instagram.com/virginiaprodan/
 _________________________________________________________________
Follow us on Twitter: @common_ben Follow us on Facebook: https://www.facebook.com/Common-Sense... American Cornerstone Institute: https://americancornerstone.org/