Episodes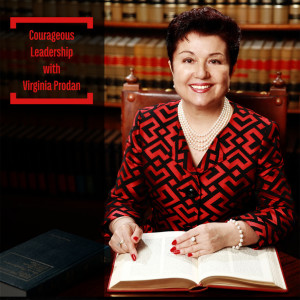 18 hours ago
18 hours ago
Jim Daly - President & CEO of Focus on the Family - is our guest at Courageous Leadership with Virginia Prodan Podcast.
Our guest is - Jim Daly - the president of Focus on the Family and host of its daily radio broadcast which is heard by more than 6 million listeners a week on nearly 2,000 radio station across the U.S. The show has been honored as Program of the Year by the National Religious Broadcasters. Under his leadership, the ministry has reinvigorated its traditional focus on helping couples build strong marriages and raise healthy, resilient kids. Daly is a husband, father, author and broadcaster. He and his wife, Jean, have two sons and live in Colorado Springs, Colorado. Jim's message will surely encourage and also challenge you.
Our podcast focuses on you - and - is designed to inspire you, to grow, and get to the potential you want to be.
To apply for our training and coaching sessions - go to: https://www.virginiaprodanbooks.com/freedom-coaching
Follow Courageous Leadership with Virginia Prodan  Podcast ;
on Edifi: https://edifi.app/podcasts/courageous-leadership-with-virginia-prodan-26927/
Or Spotify: https://open.spotify.com/show/7kHPeoAgbkAHCg2C6RApEZ
-  to hear encouraging & inspiring messages each Wednesday & Saturday at 10:00 a.m. CST‬.
We love to hear your comments, questions or share what you have learned from this podcast.
Order your autographed copy(s) of #SavingMyAssassin by Virginia Prodan  - directly here: https://virginiaprodanbooks.com/product/book/
Invite Virginia Prodan to speak at your events -: https://virginiaprodanbooks.com/invite-virginia/
Follow Virginia Prodan  on:
Twitter : https://twitter.com/VirginiaProdan 
Face Book: https://www.facebook.com/virginia.prodan.1
LinkedIn:https://www.linkedin.com/in/virginia-prodan-0244581b/
Instagram: https://www.instagram.com/virginiaprodan/
Youtube: https://www.youtube.com/user/VirginiaProd
Courageous Leadership with Virginia Prodan Podcast on:
Edifi: https://edifi.app/podcasts/courageous-leadership-with-virginia-prodan-26927/
Or - On Spotify - https://open.spotify.com/show/7kHPeoAgbkAHCg2C6RApEZ
Donate to Virginia Prodan Ministries - here: https://www.virginiaprodan.com/donate/