Episodes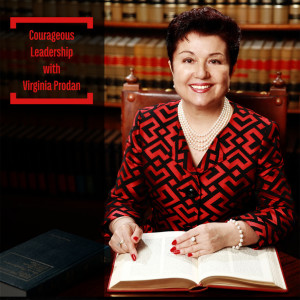 Friday Oct 20, 2023
Friday Oct 20, 2023
Susan Michael - U.S. Director of  the International Christian Embassy Jerusalem (ICEJ) -returns as our guest at Courageous Leadership with Virginia Prodan Podcast. 
Susan - will talk about the Hamas horrifying attack on Israel; Israel at war; the current situation, and what the future might look like.  And - what we and the world can do about it. 
For more than 35 years, Susan has pioneered the development of the International Christian Embassy Jerusalem (ICEJ) in the United States and around the world. She currently serves as the ministry's USA Director and is a member of the ICEJ's international Board of Directors.
Susan's involvement with the ICEJ began as a graduate student at Jerusalem University College in 1980, the same year that the Christian Embassy was first established. Upon completing her master's degree in Judeo-Christian Studies, she returned from Israel with a heart to further the Embassy's mission among fellow Americans. After a season assisting the ministry's international leadership to host a series of high-profile pro-Israel conferences across the USA, she was asked to head up the ICEJ's US Branch.
In addition to a master's degree in Judeo-Christian Studies, she holds a bachelor's degree in theology from Oral Roberts University and was awarded an Honorary Doctorate of Laws by Piedmont International University in 2018. Susan is an author, gifted teacher, and international speaker. She is often called upon to address complex and sensitive issues such as anti-Semitism, Islam, Jewish-Christian relations, and current events in the Middle East to a diverse range of audiences. Her experience working with Arabs, Jews, and Christians from many national and denominational backgrounds has equipped her to handle delicate topics central to an understanding of Israel with extraordinary clarity and grace.
In recent years she has produced a number of educational tools to enable other Christians to do the same. Susan has built the US Branch of the ICEJ into a scripturally sound and reputable ministry, evidenced in its leadership of one of the strongest networks of Evangelical leaders in America—the American Christian Leaders for Israel (ACLI).
Susan and her husband lived and worked for many years in Washington, DC, where she developed a close working relationship with the Israeli Embassy and strong connections with the US Jewish community at large. They currently reside in South Florida.
You can watch this message on our youtube channel here: https://youtu.be/E2qQ1hems3M
Follow Courageous Leadership with Virginia Prodan Podcast at:
Edifi: https://edifi.app/podcasts/courageous-leadership-with-virginia-prodan-26927/
Or Spotify: https://open.spotify.com/show/7kHPeoAgbkAHCg2C6RApEZ
- to hear encouraging & inspiring messages each Wednesday & Saturday at 10:00 a.m. CST‬.
We love to hear your comments, questions or share what you have learned from this podcast.
To apply for our training and coaching sessions - go to: https://www.virginiaprodanbooks.com/freedom-coaching
Order your autographed copy(s) of #SavingMyAssassin by Virginia Prodan - directly here: https://virginiaprodanbooks.com/product/book/
Invite Virginia Prodan to speak at your events -: https://virginiaprodanbooks.com/invite-virginia/
Follow Virginia Prodan on:
Twitter : https://twitter.com/VirginiaProdan
Face Book: https://www.facebook.com/virginia.prodan.1
LinkedIn:https://www.linkedin.com/in/virginia-prodan-0244581b/
Instagram: https://www.instagram.com/virginiaprodan/
Youtube: https://www.youtube.com/user/VirginiaProd
Courageous Leadership with Virginia Prodan Podcast at Edifi: https://edifi.app/podcasts/courageous-leadership-with-virginia-prodan-26927/
Or - On Spotify - https://open.spotify.com/show/7kHPeoAgbkAHCg2C6RApEZ
Donate to Virginia Prodan Ministries - here: https://www.virginiaprodan.com/donate/