Episodes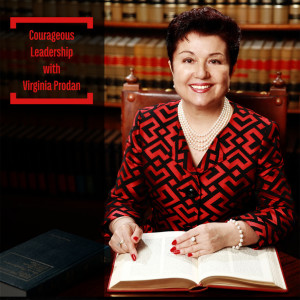 Friday Oct 13, 2023
Friday Oct 13, 2023
Welcome to Courageous Leadership with Virginia Prodan Podcast.                     On this podcast - Virginia ask you to join US to have - A Day Of Prayer vs. A Day of Rage.
The terrorist organization Hamas designated Friday, Oct. 13, as a day of "general mobilization" to support "jihad-waging Gaza" in Israel and around the world. The Israeli government warned that this call would prompt attacks on Israelis and Jews, and violence indeed erupted Friday.
"The Hamas leadership has called on all of its supporters around the world to hold a 'Day of Rage' tomorrow (Friday, 13 October 2023) and attack Israelis and Jews," the Israeli statement reads. "It is reasonable to assume that there will be protest events in various countries that are liable to turn violent."
Following the horrific massacre of over 1,000 civilians in the Israeli communities bordering Gaza last weekend and the ensuing barrages of Hamas rockets, hundreds of Israeli families living in the western Negev have been evacuated to temporary housing in hostels and hotels across the country.
And not only the Jewish people but also our Christian values are under attack.
And we are calling to - A Day Of Prayer.
We love to train You to be a winner, lead with Courage; and to live a life of Significance and Success.
Virginia Prodan is - A Socialist dissident from former #socialist #Romania in #America - an International Human Rights Attorney, Author at Tyndale House Publishers, International Key Note Speaker, Allied Attorney with Alliance Defending Freedom; and Host of Courageous Leadership with Virginia Prodan #Podcast.
Her message will encourage you and motivate you . Virginia has very helpful examples and suggestions for you. So following them - in prayer you will win with God any battle in life.
Watch the message on Youtube here: https://youtu.be/RJ4gkoXCkDw
To apply for our training and coaching sessions - go to: https://www.virginiaprodanbooks.com/freedom-coaching
Follow Courageous Leadership with Virginia Prodan Podcast at:
Edifi: https://edifi.app/podcasts/courageous-leadership-with-virginia-prodan-26927/
Or Spotify: https://open.spotify.com/show/7kHPeoAgbkAHCg2C6RApEZ
- to hear encouraging & inspiring messages each Wednesday & Saturday at 10:00 a.m. CST‬.
We love to hear your comments, questions or share what you have learned from this podcast.
Order your autographed copy(s) of #SavingMyAssassin by Virginia Prodan - directly here: https://virginiaprodanbooks.com/product/book/
Invite Virginia Prodan to speak at your events -: https://virginiaprodanbooks.com/invite-virginia/
Follow Virginia Prodan on:
Twitter : https://twitter.com/VirginiaProdan
Face Book: https://www.facebook.com/virginia.prodan.1
LinkedIn:https://www.linkedin.com/in/virginia-prodan-0244581b/
Instagram: https://www.instagram.com/virginiaprodan/
Youtube: https://www.youtube.com/user/VirginiaProd
Courageous Leadership with Virginia Prodan Podcast at
Edifi: https://edifi.app/podcasts/courageous-leadership-with-virginia-prodan-26927/
Or - On Spotify - https://open.spotify.com/show/7kHPeoAgbkAHCg2C6RApEZ
Donate to Virginia Prodan Ministries - here: https://www.virginiaprodan.com/donate/