Episodes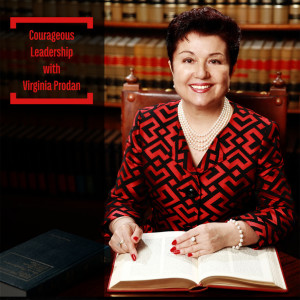 Tuesday Oct 31, 2023
Tuesday Oct 31, 2023
Please welcome Dr. Alveda King back to our Courageous Leadership with Virginia Prodan Podcast.
Dr. Alveda King - we share about antisemitism in US. Colleges.
Alveda C. King - is the daughter of the late slain civil rights activist Rev. A. D. King and the niece of the Rev. Dr. Martin Luther King, Jr.. She is a Christian evangelist; graduate of Aidan University; and is founder of SPEAK FOR LIFE, and ALVEDA KING MINISTRIES . Alveda - has a PhD, she serves as Chair of the America First Policy Institute's Center for the American Dream. Dr. King is also an acclaimed author, Fox News Channel contributor, Fox Nation host, NEWSMAX blog contributor, twice elected to GA State House, past presidential appointee, 2021 recipient of the Presidential Lifetime Achievement Award, and is a film and music industry veteran.
Her message will motivate you to stand up for the truth and against semitism in America or an other place.
At Courageous Leadership with Virginia Prodan  Podcast - We love to help you with any questions, concerns you might have or trainings.
To apply for our training and coaching sessions - go to: https://www.virginiaprodanbooks.com/freedom-coaching
Follow Courageous Leadership with Virginia Prodan  Podcast at:
Edifi: 
https://edifi.app/podcasts/courageous-leadership-with-virginia-prodan-26927/
Or Spotify: https://open.spotify.com/show/7kHPeoAgbkAHCg2C6RApEZ
- to hear encouraging & inspiring messages each Wednesday & Saturday at 10:00 a.m. CST‬.
We love to hear your comments, questions or share what you have learned from this podcast.
Order your autographed copy(s) of #SavingMyAssassin by Virginia Prodan - directly here: https://virginiaprodanbooks.com/product/book/
Invite Virginia Prodan  to speak at your events -: https://virginiaprodanbooks.com/invite-virginia/
Follow Virginia Prodan  on:
Twitter : https://twitter.com/VirginiaProdan
Face Book: https://www.facebook.com/virginia.prodan.1
LinkedIn :https://www.linkedin.com/in/virginia-prodan-0244581b/
Instagram: https://www.instagram.com/virginiaprodan/
Youtube: https://www.youtube.com/user/VirginiaProd
Courageous Leadership with Virginia Prodan Podcast at Edifi: https://edifi.app/podcasts/courageous-leadership-with-virginia-prodan-26927/
Or - On Spotify - https://open.spotify.com/show/7kHPeoAgbkAHCg2C6RApEZ
Donate to Virginia Prodan  Ministries - here: https://www.virginiaprodan.com/donate