Episodes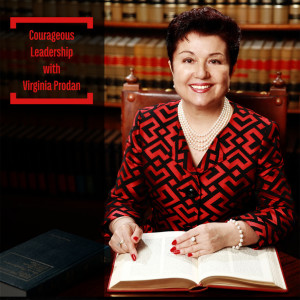 Tuesday Jun 06, 2023
Tuesday Jun 06, 2023
 Virginia Prodan - trains You to lead with Courage; and to live a life of significance and success.   On this podcast - Virginia will train you on : How to Keep Your Faith in a Faithless World.
Her message will encourage you and motivate you to keep your faith in a faithless world. 
We live in an increasingly secular society.     According to many researches  - 1.1 billion people worldwide identify as non-believers. 
Many others superficially identify with Christianity but rarely pray, read the Bible, or act on their faith.   Church attendance rates are also at an all-time low, with many denominations forced to close churches as a result - as fewer than one-quarter of Americans attend church on Sunday.
Therefore those non attending church  Christians increasingly feel for that reason a lack of faith within their communities and within their own lives.   
Virginia Prodan can testify as I experienced religious persecution in socialist Romania, that remaining true to your faith may feel all but impossible when it's absent from so many elements of daily life, but it's a challenge worth pursuing. 
Virginia Prodan has few suggestions for keeping your faith in a faithless world -  and—-  incorporating your faith into your daily routine.
 For more training - individual, group or company training - go to: https://www.virginiaprodanbooks.com/freedom-coaching
Follow Courageous Leadership with Virginia Prodan Podcast at: https://open.spotify.com/show/7kHPeoAgbkAHCg2C6RApEZ -
- hear encouraging & inspiring messages each Wednesday & Saturday at 10:00 a.m. CST‬. 
    Order your signed copy(s) of my memoir #SavingMyAssassin - directly here: https://virginiaprodanbooks.com/product/book/
    Invite Virginia Prodan speak at your events - go to: https://lnkd.in/eQwj4R2u
Comments
(1)
To leave or reply to comments, please download free Podbean or