Episodes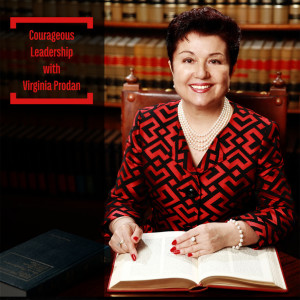 Tuesday Jan 03, 2023
Tuesday Jan 03, 2023
Join us at Courageous Leadership with Virginia Prodan Podcast - as we train many to lead with Courage .
Virginia - the host - shares how to make Uncertainty Your Opportunity .  Virginia Prodan- is an International Human Rights Attorney, an Author at Tyndale House Publishers, International KeyNote Speaker, and Host of Courageous Leadership with Virginia Prodan  Podcast.
Virginia shares how she transformed Uncertainties in her life into her opportunities - even under Socialism and more. Virginia is a Socialist dissident from Romania in America .
As leaders we need to —-see ——envision - and —-transform the uncertainty around us into our opportunity to bring new solutions - God's solutions to the world gone mad.
Virginia outlines for you steps to follow and change your uncertainty into your opportunity. For more training in group or individual #coaching please reach us at -https://lnkd.in/ei4SC8ac
Do not settle for less. We can help you turn your setbacks into comebacks.
Order your signed copy(s) of memoir #SavingMyAssassin by Virginia Prodan here: https://lnkd.in/ecQnD6X
Invite Virginia Prodan - to speak at your #events - go to: https://lnkd.in/eQwj4R2u
Subscribe for FREE & follow - Our Courageous #Leadership with Virginia Prodan Podcast each Wednesday & Saturday at 10:00 a.m. CST - on Spotify; PodBean; Apple Podcast , YouTube and now on Edify Podcast Network - here: - https://lnkd.in/g_5nqzJj
Follow Virginia Prodan - on :
Twitter : https://lnkd.in/gyDX5isA
Facebook:https://lnkd.in/g7ytqY9y
LinkedIn: https://lnkd.in/gsFnMcsX
Instagram: https://lnkd.in/gWYpEifa
Youtube: https://lnkd.in/eJXWPHU
Courageous Leadership with Virginia Prodan Podcast :https://lnkd.in/egT6U5g
#SavingMyAssassin #FRC #CBN  #LoveWhatMatters #Romania #America #Socialism #Freedom