Episodes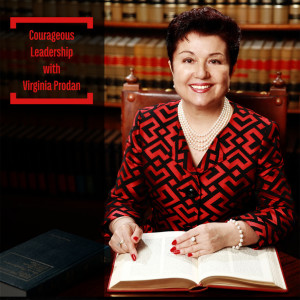 Tuesday Jan 17, 2023
Tuesday Jan 17, 2023
Virginia Prodan interview on her memoir Saving My Assassin - on OvercomersTV-Live.
Hear Virginia Prodan's story and journey from Socialism and Communism in Romania to America. 
Understand why Socialism is not for America. Be encouraged by her fight for religious Freedom under persecution - arrest; daily interrogations; house arrest and even as the Dictator N. Ceuasescu sent an assassin to her law office to kill her. Virginia Prodan fights for religious freedom now in America - at her law office - or as an Allied Attorney with Alliance Defending Freedom (ADF).
Virginia Prodan is an - International Human Rights attorney who experienced the cruelties of Socialism, defended Christians and human rights cases in Socialist Romania; ; Host of Courageous Leadership with Virginia Prodan Podcast; Writer; International Key Not Speaker; and the Author of #SavingMyAssassin - published by Tyndale House Publishers.
You too have a role and a voice in protecting religious freedom. We need courageous people to stand up for freedom in Christ in America.
For training - individual training; group training; or your CEO or company training - go to: https://www.virginiaprodanbooks.com/freedom-coaching Follow our Podcast at: https://open.spotify.com/show/7kHPeoAgbkAHCg2C6RApEZ
- hear our encouraging & inspiring messages each Wednesday & Saturday at 10:00 a.m. CST‬. For more training and to discover the Courageous Leader in you - go to: https://www.virginiaprodanbooks.com/freedom-coaching.
Order a signed copy(s) of #SavingMyAssassin - by Virginia Prodan - here: https://virginiaprodanbooks.com/product/book/
Invite Virginia Prodan  - to speak at your events  : https://lnkd.in/eQwj4R2u
Subscribe for FREE - Our Courageous #Leadership with Virginia Prodan #Podcast each Wednesday & Saturday at 10:00 a.m. CST - on Spotify; PodBean; Apple Podcast , Edify Podcast Network - here: - https://lnkd.in/g_5nqzJj Watch each podcast message too on You Tube - here: https://youtu.be/E5lXYj5_SpA
Follow - Virginia Prodan - on :
Twitter : https://lnkd.in/gyDX5isA
Facebook:https://lnkd.in/g7ytqY9y
LinkedIn: https://lnkd.in/gsFnMcsX
Instagram: https://lnkd.in/gWYpEifa
Youtube: https://lnkd.in/eJXWPHU
Courageous Leadership with Virginia Prodan Podcast: https://lnkd.in/egT6U5g
#SavingMyAssassin #FRC #CBN #LoveWhatMatters #Romania #America #Socialism #Freedom #humanrights #podcast #instagram #linkedin #ceo #facebook #training